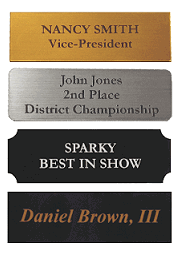 Sample Materials

SPECIAL ORDERS:
Further customization is available when ordering at least 15 labels.
Font type, size, number of lines, label size, and color can all be customized via special orders.
Visit the Contact Us section to ask about special orders.
Most special orders still only cost $4.95 per tag.
PRODUCT DETAILS:
Spacing on the labels may be changed to fit best on the labels.
Thin, flexible vinyl - plastic - 0.020 in. thick.
Self-stick adhesive applied to back.
Text will be printed exactly as input. If you enter all lower case, your labels will be printed all lower case. If you misspell a word, your labels will include the misspelled word.
28 spaces per line
Labels Size: 3" x 1" inches (up to 3 lines)
SHIPPING INFORMATION:
Products will be shipped via US Postal Service 1st Class Mail.
Allow 7-10 days for delivery.
Free Shipping and Handling.
Orders can only be shipped to addresses in the United States.
Sales Tax will be added to orders shipped to:
AR,FL,GA,IN,KY, MD,MI,MN,NC,NE, NJ,NV,OH,OK,PA, RI,SD,UT,VA,VT, WI,WV,WY
For orders shipped to other states, buyers should consult a CPA or tax
attorney regarding their obligation to remit sales or use tax on their purchase.